IN PERSON MEETINGS RESUMED AS OF FRIDAY, MAY 28, 2021 !
NOTE: WE WILL BE MOVING AS OF FRIDAY, SEPTEMBER 10, 2021 TO:
VFW, 844 SWEETSER AVE, NOVATO
WELCOME to the Home Page of the





TAMALPAIS STAMP CLUB
Tamalpais Stamp Club, Chapter # 1170-116381 of the American Philatelic Society, is a group in the North Bay dedicated to the collection of postage stamps. We are located in the beautiful county of Marin, just north of San Francisco, California. At our bimonthly meetings we trade stamps, have club and member auctions, and buy from APS sales circuits. In December we have a Christmas party and dinner. Come join us!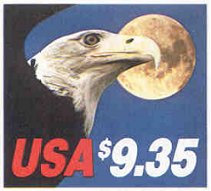 WHEN: At 7:30 p.m. on the second and fourth Friday of each month.
Exceptions: In November the meeting is only on the second Friday, and in December the meeting is on the first Friday, and the Christmas Party is on the second Friday.
WHERE: Veterans of Foreign Wars
844 Sweetser Avenue
Novato, California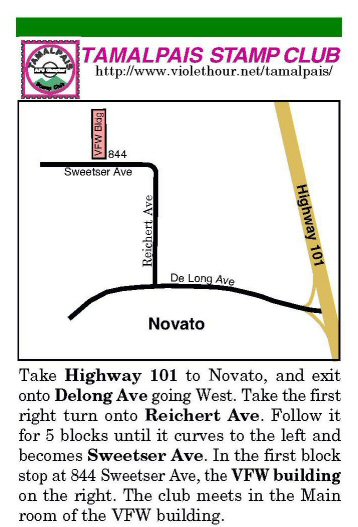 MEMBERSHIP DUES: $2.00/year
FOR MORE INFORMATION, please send an e-mail to
the Membership Chair, Gail Trimble: gail@violethour.net
INTERESTING LINKS:
American Philatelic Society
Stamp Store
American Topical Association
The Virtual Stamp Club
Smithsonian National Postal Museum
Learn About Stamps
Stamp Yellow Pages Directory
eBay Auctions on Stamps
Linn's Stamp News
Scott Publications
Stamp News International

---